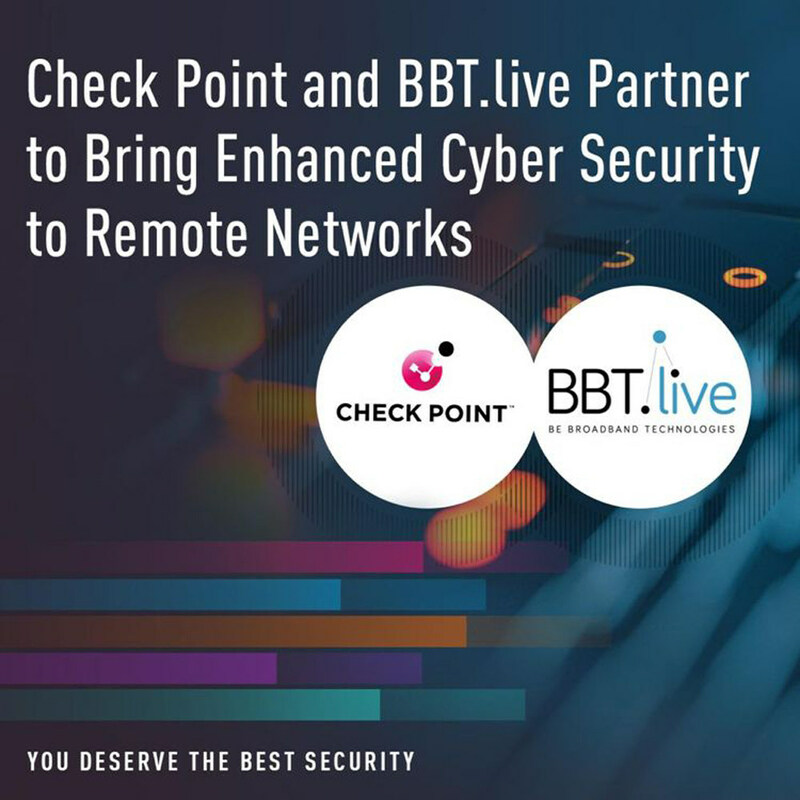 BBT.live announces addition of Check Point Device Protection by default to BeBroadband solution at MSP Summit
BBT.live & Advantech team with Intel to simplify service provider SASE connectivity
Check Point's Device Protection provides business users with a layer of security to shield against cyber threats, ensuring their IT systems and Computers at remote sites are fully protected. The completed integration and offering of Device Protection as an integral part of BeBroadband follows the August 2022 announcement of cooperation between the two companies. Check Point has posted a blog and LinkedIn post detailing the advances in the cooperation.
BBT.Live's innovative SD-WAN software is designed to be technology-agnostic, allowing it to function seamlessly with a range of edge hardware and cloud environments, without any limitations imposed by specific technologies. This approach emphasizes interoperability and cost-effectiveness for service providers and enables products to perform optimally across various platforms. By adopting this methodology, BBT.live creates products that offer unparalleled versatility and efficiency, allowing their clients to achieve their business objectives more effectively. Service providers can deliver excellent customer experience while significantly reducing IT, customer service and technical team costs.
By embedding Check Point Device Protection within its software, BBT.Live's solution is also secure from cyber threats. Check Point's innovative Nano Agent technology is an embedded runtime protection solution that provides built-in security against attacks such as access control, memory corruption, shell injection, import table hijacking, control flow hijacking, and more. It provides coverage without compromising performance. It monitors the activity of a device, identifies anomalies indicative of complex cyberattacks and blocks them in real time.
Moshe Levinson, Founder and CEO at BBT.Live, said, "The integration of Check Point Device Protection as the default option in our solution brings service providers the peace of mind that their networks and data are protected from ever increasing threats at the location the data is being accessed."
Miri Ofir, R&D Director in Check Point Software technologies said: "Our mission is to deliver the best security for users and organization. Extending our partnership with BBT.Live to include the Nano agent in any SD-WAN edge device, is crucial to achieve our common goal. Together we will offer organizations a comprehensive solution with a reliable and secure connection to the internet."
The cooperation between Check Point and BBT.live is an important step in enabling service providers with tools to achieve the goals of the US Biden-Harris Administration National Cybersecurity Strategy announced last month.  That announcement included a call for service providers to make "reasonable attempts to secure their infrastructure against abuse and other criminal behavior."
The partnership between Check Point and BBT.live highlights the importance of cybersecurity in today's world of digitization and remote work. With Check Point Device Protection embedded within BBT.Live's software, users can communicate with peace of mind, knowing that their communication components are fully secured against cyber threats.
BBT.live is at Channel Partners #MSPSummit at table 59, and available for meetings this week in Las Vegas area.
About BBT.live
BBT.live provides an innovative and secure virtualized cloud-based connectivity solution known as BeBroadband. As a next-generation SD-WAN platform, BeBroadband is engineered to streamline the operations of service providers by integrating all essential features into a single, fully integrated suite, eliminating the need for additional integration. With its easy setup, deployment, and operation, BeBroadband is a comprehensive solution that incorporates industry-leading features from the best providers in the market. These features include security, in partnership with Check Point, and WAN optimization, powered by Rodhe & Schwarz. BBT.live is headquartered in Tel Aviv, with it's US hub in New Jersey, and is dedicated to delivering cutting-edge solutions that help service providers enhance their business outcomes.
BBT.live Media Contact:
David Weissmann
[email protected]
+1 646 530 2135
+972-58-795-5088
Photo – https://mma.prnewswire.com/media/2068187/BBT_Live_BeBroadband_solution.jpg
View original content to download multimedia:https://www.prnewswire.com/news-releases/bbtlive-announces-addition-of-check-point-device-protection-by-default-to-bebroadband-solution-at-msp-summit-301813660.html
Want to take BeBroadband out for a test drive? Schedule your consultation today!