BeBroadband™ WAN Optimization
BeBroadband WAN-Optimization is equipped with an integrated deep packet inspection (DPI) feature powered by R&S®PACE 2 by ipoque, a Rohde & Schwarz company. This specification document outlines the capabilities of our WAN-Optimization solution.

R&S®PACE 2 by ipoque is an advanced protocol and application classification engine based on DPI technology. The DPI library integrated into BeBroadband provides complete IP network traffic visibility up to layer 7 and beyond, identifying and classifying (5000+) thousands of applications and protocols in real time, even in the presence of encryption or obfuscation. With weekly signature updates and continuous performance testing, R&S®PACE 2 offers the highest traffic detection rate in the market, enabling a comprehensive view of network applications and categories empowering efficient analysis, optimization, and management of IP network traffic.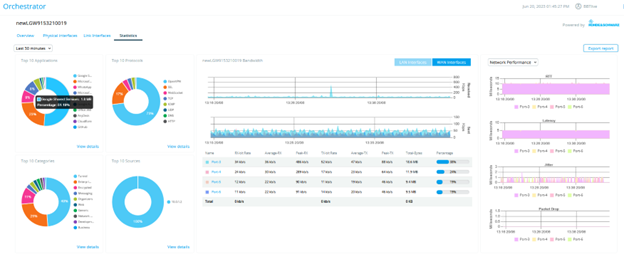 Some of the R&S WAN Optimization in the BeBroadband™ Orchestrator
 Features & Plug-ins
Flow data exporter plug-in: Supports IPFIX and sFlow for efficient flow data export.
NAT plug-in: Detects devices behind routers using network address translation (NAT), including smartphones using mobile tethering.
First packet classification: Classifies IP traffic via DNS and service caching methods using the very first packet of a flow.
Dynamic upgrade: Receives live updates without interruptions, integrating weekly software releases during runtime.
Multiprocessing: Designed for symmetric multiprocessing systems, supporting uniform (UMA) and non-uniform memory access (NUMA).
Intent based steering and prioritization.
Decapsulation, defragmentation, reordering: Prepares packets/flows for classification through necessary packet/flow adjustments.
Memory management: Optimizes memory usage individually for efficient resource utilization.
Fast path: Bypasses upcoming packets of a flow if no additional processing is required, improving overall processing efficiency.
Client-server indication: Tracks internal network users selectively, significantly reducing memory requirements.
Flow and subscriber tables: Incorporates a built-in high-performance hash table with timeout for efficient flow and subscriber management.
SSL session ID tracker: Enhances SSL classification results through improved session tracking.
Statistic QoS measures for TCP traffic: Provides TCP handshake measurements, out-of-order and retransmission counters for effective quality of service (QoS) management.
RTP performance measures: Enables loss fraction, jitter, and RT(C)P statistics analysis for optimized real-time protocol (RTP) traffic handling.
Metadata dissectors: Supports IP, TCP, RTP, AMR, H.263/4, RTCP, HTTP, MP3, MP4, ID3 dissectors, and more.
The Highest Traffic Detection Rate on the Market
Accurate traffic classification relies on an up-to-date DPI library. Our DPI engine, R&S®PACE 2, ensures the highest traffic detection rate in the market by consistently maintaining a high level of classification accuracy. Weekly signature updates seamlessly integrate into the DPI library during runtime, guaranteeing no application remains undetected. New application releases are continuously monitored, and their behavior thoroughly tested across different devices, operating systems, and networks. Additionally, existing classifications undergo continuous performance and reliability evaluations.
With Be Broadband WAN Optimization analyzing network traffic at the packet level, we are able to intelligently prioritize and optimize data flows across your network based on user intentions, ensuring optimal performance and efficiency. This means faster application response times, reduced latency, and improved overall network performance. BeBroadband with WAN Optimization empowers unlock the full potential of networking, enabling smoother operations, enhanced productivity, and a superior user experience.