BeBroadband™ Triple Layer Security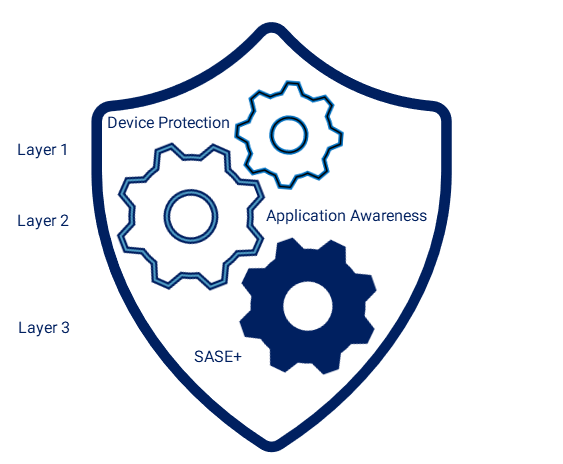 BeBroadband™ as a Service provides a comprehensive triple-layer security framework to ensure optimal protection for your network and data. Please explore each layer by accessing the respective links.

BeBroadband™ Edge Appliances are equipped with integrated Device Protection based on Check Point™ Nano Agent technology. This prevents 3rd party intrusion into the customer network through any Wide Area Network (WAN) and provides more—comprehensive protection against known and unknown attacks, including Zero-day vulnerabilities with no additional configuration.
Mitigates risks associated with memory corruption, shell injection, import table hijacking, and control flow hijacking.

Application Awareness Security is enabled by Rohde & Schwarz R&S®PACE 2 engine DPI allows. The DPI engine gives visibility and allows blocking and filtering intelligently non-essential applications.
CloudGuard from Check Point provides complete SASE+ protection from the edge to the cloud and back, Unified Cloud-Native Security, Automated Everywhere, including the Next Generation Firewall, and much more. Check Point CloudGuard provides cloud-native security for all your assets and workloads across multi-clouds, allowing you to automate security everywhere with unified threat prevention and posture management. The only solution that provides context to secure your cloud with confidence.